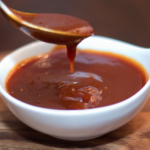 Ingredients:
½ C. tomato paste
6 Tbsp. balsamic vinegar (I used the Fig balsamic from Olympia Olive Oil)
4 Tbsp. pure maple syrup
4 tsp. Worcestershire sauce
2 cloves garlic, minced
2 tsp. onion powder
1 tsp. sea salt
½ tsp. red pepper flakes (omit this if you can't handle spicy sauces)
4 tsp. extra virgin olive oil (I used Tuscan Herb olive oil from Olympia Olive Oil)
Instructions:
In a medium saucepan whisk together 1 cup water, tomato paste, vinegar, maple syrup, Worcestershire sauce, garlic, onion powder, salt and pepper flakes.
Bring sauce to a boil on medium high and continue boiling for 3-4 minutes.
Makes enough to marinate meat in and enough left over to glaze over the top!