About

Meet The Owner & Master Trainer – Amanda Price-Salazar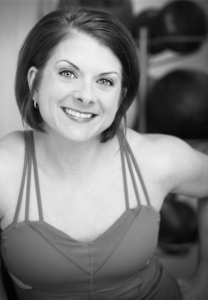 As a child and young adult, Amanda dealt with obesity weighing in at 280 lbs., low energy, depression, eating disorders, and exercise addiction. She needed help.
She found that help by working with a personal trainer, nutritionist, life coach, and by participating in variety of local sports groups and athletic club fitness classes. She continued on this path by educating herself in the areas of nutrition, weight management, mindset coaching, athletic/sports fitness training, and injury rehabilitation training – she finally made the change to becoming a healthier and happier person.
Today, she is certified personal trainer, nutrition advisor & coach, motivational speaker, and owner of Edge Fitness. Knowing the importance of proper exercise and nutrition habits, Amanda shares her knowledge, motivation, experience and skills by promoting life-long healthy lifestyles.
In August 2006, a motorcycle accident added a new dimension to Amanda's life. Faced with a broken back, hip, and pelvis, she was determined to recover and stay in shape. Working diligently with a physical therapist for several years while continuing to follow her own self-designed workout program, she gradually grew back to being in shape and even stronger than before the accident.
Amanda's exuberance for life plus her new found insight and knowledge regarding physical injuries and recovery has aided her to better support her clients as they strive toward achieving their own health and fitness goals.
Certifications
Saint Martin's University – Degree in Business Administration
California University – Master of Science – Exercise Science and Health Promotion
ACE Certified Personal Trainer
Les Mills Certified Fitness Trainer
BOSU Certified Trainer
TRX Certified Trainer
Winning Sports Nutritionist
GGS Pre- and Postnatal Fitness and Nutrition Specialist
Youth Fitness Training Specialist
Weight Management Programming
Athletic Fitness: Strength and Conditioning
Exercise for Special Populations: Chronic Knee Pain Management
Nutrition for Special Populations: Nutrient Timing
Understanding Myofascial Release
Exercise for Chronic Diseases: Modifications for Low Back Disorders
High Intensity Interval Training Programming
Body Sculpting for Boot Camp
Advanced Strength and Conditioning Drills
Action Plan Programming for Menopause
YMCA of the USA Personal Trainer
YMCA of the USA Strength Training Instructor
Behind the Scenes Fitness Cardio Athletic Kickbox Instructor
YMCA of the USA Personal Trainer
YMCA of the USA Strength Training Instructor
Behind the Scenes Fitness Cardio Athletic Kickbox Instructor
Qualifications
Owner, Edge Fitness, 2003-Present
27 years experience as Personal Trainer/Fitness Instructor in Thurston County
Thrive Community Fitness, Personal Trainer, 2009 – 2011
SoundBody Fitness, General Manager/Personal Trainer 2005 – 2007
South Puget Sound Community College Physical Education Faculty Member, 2003-2005
Saint Martin's University Faculty, Staff, and Student Fitness Coordinator, 1998-2001
American Heart Association – Adult CPR/First Aid/AED
OUR EDGE FITNESS TRAINING TEAM
Andrew Hardy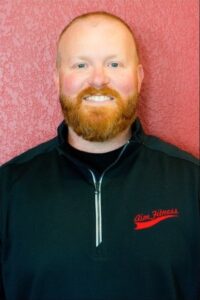 My name is Andrew Hardy and I have been a Personal Trainer for over 20 years. I've provided my training services in large competitive areas such as Orange County, LA, Fresno, and now Olympia.
I have prior experience working with professional athletes, physical therapists, mixed martial artists, and licensed dietitians to help my clients reach their full potential and reach their fitness goals.
I have a Bachelor's Degree in Kinesiology with an emphasis in Exercise and Sport Science and a Minor in Business. My current personal trainer certification is with the American Council On Exercise (ACE).
I have had the pleasure to have worked with many wonderful professionals, which has helped shaped my knowledge and career in the field of human movement and overall health and fitness.
I work closely with my clients one-on-one, in small groups, and now virtually if needed. I offer accountability, intensity, and motivation for individuals to be as healthy and fit as they can in today's stressful world.
I provide personal training, sports performance training for adult and youth athletes, and specialize in senior fitness and mobility, as well as pregnancy wellness.
I love being active and I love the personal relationship I form with each client that I work with. Being a personal trainer for over 20 years isn't just a job, it's a way of life and my passion is in helping others live healthier lifestyles. I look forward to working with you on your fitness goals!
Yoshii-Johnson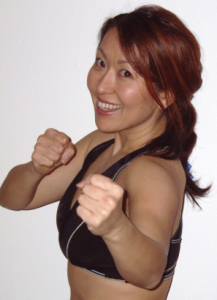 Akiko is a NASM Certified Personal Trainer, NASM Weight Loss Specialist / Fitness Nutrition Specialist / Corrective Exercise Specialist / Performance Enhancement Specialist / Mixed Martial Art Conditioning Specialist. She is also a certified group fitness instructor in various formats such as: P90X, INSANITY, Turbo Kick, PiYo, CIZE, Box Mania, R.I.P.P.E.D., POUND, Mixxedfit, Silversneakers etc.Akiko was born and raised in Japan. Moved to Canada 1989 for college and pursuing her corporate career in Vancouver, BC. Then things changed (got married) and moved to Olympia, WA in 2004. Fitness has been always her passion since she learned to take control her life by losing weight by exercising every day in her childhood as she was bullied and ridiculed. She has also survived severe depression with suicide attempt and bulimia through counseling and taking care of her physical, mental and spiritual health. She has been training in Karate for over 26 years and her Karate journey continues. She switched her career to health & fitness in 2010. And, she also has completed one year of personal development & leadership training with Klemmer & Associates to improve her service for her coaching clients.Due to Akiko's martial arts' background and experience, her training style is more focused on posture, balance, and core strength where power, speed, endurance, and precision technique is generated in. She has been helping her clients to bring out their inner warrior spirit for resiliency, courage, and discipline yet balance in life for happiness.She has just started to train Krav Maga by a master trainer, has been studying for NASM Master Trainer certification, and is training in Karate harder every day for trial on 2020 Tokyo Olympic Games for Team Canada.