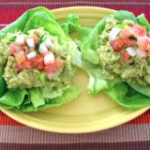 Ingredients:
1 large ripe avocado (skin removed)
½ cup plain low-fat Greek yogurt
½ tsp. granulated garlic
½ tsp. onion powder
¼ tsp. sea salt
¼ tsp. ground pepper
2 cups finely chopped or shredded cooked chicken
½ red onion, chopped
1 small lime
Directions:
In a medium bowl mash together avocado and greek yogurt until smooth.
Stir in garlic, onion powder, sea salt, and pepper.
Add chicken and red onion to avocado mixture and stir until all ingredients are combined
Squeeze in half the juice from the lime. Taste and add more lime juice to suit taste.
Serve in lettuce wraps, or in whole grain wrap, pita or anyway you would like to enjoy your avocado chicken salad!