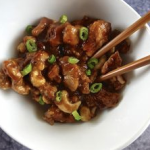 Ingredients:
1/4 cup arrowroot flour
1/2 tsp. black pepper
2 lbs. chicken (your choice chicken breast, thighs, or tenders) cut into bite-size pieces
1 tbs. coconut oil
3 tbs. coconut aminos
2 tbs. rice wine vinegar
2 tbs. organic ketchup (tomato paste is an alternate option)
1/2-1 tbs. palm sugar
2 minced garlic cloves
1/2 tsp. minced fresh ginger
1/4-1/2 tsp. red pepper flakes
1/2 cup raw cashews
Directions:
Place arrowroot flour and black pepper in a large Ziploc bag. Add chicken pieces and seal; toss to thoroughly coat meat.
Melt coconut oil in a large skillet or wok. Add chicken and cook for about 5 minutes until lightly brown on all sides. Remove and add to Crock Pot.
Mix coconut aminos, rice vinegar, organic ketchup, palm sugar, garlic clothes, fresh ginger, and red pepper flakes in a small bowl. Pour mixture over chicken and toss to coat.
Put lid on crock pot and cook on low for 3-4 hours.
Stir cashews into chicken and sauce before serving.