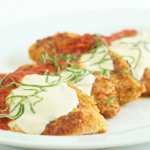 Sauce Ingredients:
2 Tbsp. coconut oil
1 onion
4 cloves of garlic, minced
2-28 oz. cans of tomato puree
1-16 oz, can crushed tomatoes
1 bay leaf
1 tsp. dried parsley
2 tsp. dried oregano
1 tsp. crushed red pepper
1 tsp. sea salt (to taste)
1 C. water
Directions for the Sauce:
Cook onions and garlic in oil until tender, about 5 minutes.
Add in the rest of the sauce ingredients, mix well and bring to a rolling boil then reduce heat to low and let simmer for 30 minutes. Be sure to cover after about five minutes to avoid a mess.
Chicken Parmesan Ingredients:
2 pounds of chicken thighs
1-1/2 C. almond flour
6 Tbsp. coconut oil
3 eggs
2 Tbsp. butter (or ghee)
2 tsp. onion powder
2 tsp. garlic powder
2 tsp. dried oregano
Directions Chicken Parmesan:
Preheat oven to 400°F (200°C).
Heat oil in a large pan over medium heat.
In a separate bowl, add all dry ingredients and mix well.
Dredge each piece of chicken first in the dry mix, then the eggs, then the dry mix again.
Carefully place each piece of chicken in the frying pan with the butter (or ghee) and fry until golden brown, or about 3 minutes each side.
Remove the chicken from the pan, and set them aside.
Pour your sauce into the frying pan and scrape sides of pan in with the sauce.
Heat the sauce to a simmer, then add the chicken back into the pan on top of the sauce.
Simmer for another 5 minutes, then cover and cook in your preheated oven for 10 minutes.
After 10 minutes remove the cover. 9If you want to add fresh mozzarella slices of cheese this is the time to do it. Place one on each piece of chicken.)
Cook uncovered for another 10 minutes.
Serve over the top of some spaghetti squash and enjoy!