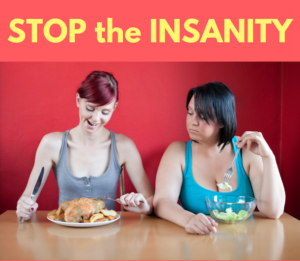 Have you spent years of your life yo-yo dieting without any consistent long-term success?
Is it often difficult for you to stay committed to an exercise or nutrition program for any specific length of time?
Are you tired of failing when it comes to diet/exercise programs, not reaching your goals, and feeling unable to control your emotional eating?
Do you wish you loved yourself and your body more?
If you answered 'YES' to one or all of the above questions…..THIS PROGRAM IS FOR YOU!
When most of us decide we want to look better, lose weight, eat healthier, and maybe wish that one day we would somehow like to look just a little bit like the 'fit chick' or 'celebrity weight-loss star' on the cover of the latest health magazine who is also blasted all over social media as what a healthy woman should look like….we tend to want to take the 'ALL OR NOTHING' approach to get there.
This approach often includes fad diets, 21-30-60-90-day challenge programs, minimizing our dietary intake to almost nothing, crazy exercise regimens, and supplements that promise miracles and always under deliver. Time and money is wasted and we feel worse than we did when we started any of it!
As a woman who has previously been obese, overcome eating disorders and body dysmorphia, and who has been involved in the health/fitness industry as personal trainer and nutritionist for 22 years now, I know first hand how overwhelming, confusing, and exhausting it can be to make changes to our bodies and our everyday lifestyle in the world we live in. The public media (tv, newspaper, magazines) is always a driving force in setting the stage of what the ideal woman should look like. Now, with the growth of social media in the past ten years, it is even worse.
There is so much health and wellness information floating around out there. It is difficult and overwhelming to cut through the clutter while trying to figure out what is true, what is factually correct, and what will work.
There are several necessary 'tools' that many women are missing when they begin their 'ALL OR NOTHING' approach to trying to achieve their health and fitness goals. The first tool needed is….
KNOWLEDGE!
Yes, the saying is true…KNOWLEDGE IS POWER!
Without the educational background that provides the key to understanding nutrition, meal planning, exercise, and how your body works within all of those things, it is almost impossible to achieve and maintain any specific health and fitness goal. The second tool for true success is…
BEHAVIOR CHANGE!
Success in diet/exercise programs is usually never truly possible without first identifying your personal behaviors that are causing barriers to your success AND knowing how to make the correct behavior changes to break down your barriers so you can achieve success!
With that said, the goal of this LIFESTYLE REVAMP 8-WEEK PROGRAM for women is to educate, support, guide, and empower you in your journey to living a healthier and happier lifestyle. (It is not a diet, it is not an unrealistic quick fix diet challenge, and it is not a crazy exercise program.)
So…the big questions are….What does this program include & how much does it cost?
For ONLY $25/week the program includes:
A One-Day Retreat (Sat FEB. 3 from 9:30am – 3:30pm) Covering in Detail:
Nutrition & Meal Planning Education Presented by Amanda Salazar, Owner of Edge Fitness & Health & Fitness Expert.
-Your proper portion sizes for all foods (fruits, veggies, proteins, carbohydrates, fats, etc.)
-What your daily meal plan should look like (each meal specifically and overall)
-Learn about macros, what are they, why are they important, how to figure them out. You will calculate your own macros (grams of protein, carbs, fats) needed maintain weight and to lose weight/body fat
-You will be educated on how to use a specific macros app to log a day of meals to make sure you are where you need to be based on your macro numbers and see what a day of food should look like for you. You will also be taught how to re-calculate your macros if you reach a peak or plateau (are no longer getting results) in order to get continued consistent results and move forward in achieving your goal
-Meal Prep/Planning 101: Learn how to properly meal prep food (your meal plan) for a week in an efficient amount of time – tips and tools that will save tons of time!
-Learn innovative ways to give your daily healthy meal plan new flavor and variety without getting bored
Behavior Change For Lifetime Success & Barrier Breaking Tools Presented By Stacy Shilter-Pisano, Counselor, Therapist, & The Emily Program Site Director.)
-Identifying barriers to the achievement of set goals
-Intervening on behaviors identified as problematic
-Increasing awareness of psychological underpinnings related to problem behaviors
-Deepening understanding of relationship with food/body
-Developing a stronger sense of Self independence of appearance OR performance
-Effective strategies for coping with challenging internal experiences, including thoughts/emotions
-Each participant will get a private mini session with Stacy the day of the retreat to discuss your own personal areas of behavioral struggle and find out how to best start changing your behaviors.
14-Day Metabolic Reset Detox Program (Average Weight-Loss is 6-12 lbs.)
🔹

8-Weeks Private Group Online Nutrition and Fitness Guidance, Mo
tivation, and Support
🔹

One-Month Unlimited Fitness Boot Camp Class Membership &
Dri-Fit Tank Included
(while supplies last)
🔹Five InBody

Measurement Check-Ins at Capital Weight-Loss Clinic**
**NOTE: InBody Check-Ins NOT INCLUDED in the price. This is an additional add-on program option for $99. If you would like to add it let us know after signing up for the program.
Measures Body Fat, BMI, Weight, Size Changes Throughout Body, and More)