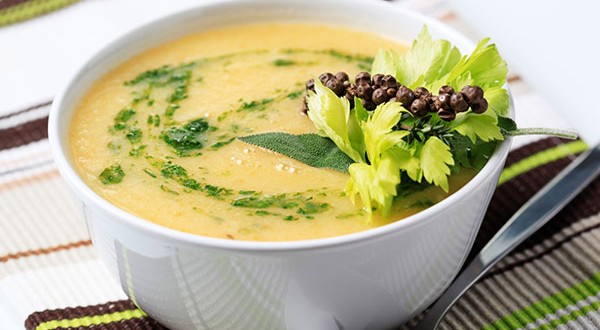 Ingredients:
2 Tablespoons cocunut ghee (can substitute coconut oil)
2 Tablespoons extra-virgin olive oil
1 Medium yellow onion (finely chopped)
1 Teaspoon curry power
1/2 Teaspoon white pepper
1 Teaspoon Himalayan pink sea salt
1 15-ounce can pumkin puree
1 Cup organic, low-sodium chicken broth
1 Cup canned full-fat coconute milk
1 tablespoon raw honey
1/8 Teaspoon turmeric
1/4 Teaspoon ginger powder
Instructions:
Add coconut ghee and olive oil to a medium saucepan over medium-low heat. Add the onion and cook until translucant, about 10-15 minutes or until soft. Add Curry powder, white pepper and salt. Mix then add pumkin, chicken broth, coconut milk (shake the can before opening) and honey. Stir the ingredients together until the soup is smooth. Mix in turmeric and ginger powder and allow the soup to simmer for 5-10 minutes (or longer if desired). Serves 4.
Topping Suggestions: 
Crumbled plantain chips, cilantro.
Nutrition Facts (per serving):
292 calories, 3 grams protein, 17 grams carbs, 5 grams fiber, 25 grams fat.