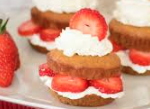 THE SHORTCAKE
Ingredients:
3 eggs
¼ cup honey
1 1/4 cup full fat coconut milk (the kind that you have to buy in a can)
2 teaspoons vanilla extract
½ cup coconut flour
1 tsp baking soda
¼ tsp sea salt
6 count cupcake pan for larger muffins or 12 count for smaller cakes
Directions:
Preheat oven to 350.
Mix all the wet ingredients in a large bowl. (BTW…..You can mix well by hand no problem!)
Add the coconut flour to the wet ingredients and allow mixture to sit for just a few minutes to thicken.
Add salt and baking soda and finish mixing.
Place foil liners in the cupcake pan and fill them 3/4 of the way full and bake for 20 – 25 minutes or until toothpick comes out clean.
While the cakes are baking, mix up a batch of paleo whipped cream and put together the strawberry topping.
Once the cakes have cooled, remove them from the foil liners, slice them in half, fill and top with paleo whipped cream and the strawberry topping.
THE WHIP CREAM
 Ingredients:
 1 can (14oz.) Trader Joe's Coconut Cream (or full fat Organic Native Forest Coconut Milk )
1 Tbsp. honey (or 1 Tbsp. coconut sugar)
¼ tsp. vanilla extract (optional)
Directions:
Quick Version –
Scoop the cold (or even room temperature) coconut cream that sits at top of the can into a small bowl (leave any excess moisture/coconut water in the can).
Whip it up with a fork for a few seconds until fluffy. It won't be as stiff and pretty as the below fancy version, but this takes less than a minute and you don't have to pull out your stand mixer.
Fancy Version –
Chill the can of coconut cream in the fridge overnight or at least for a couple of hours.
Chill your mixing bowl and whisk attachment in the freezer for 10 minutes before making the coconut whipped cream.
When bowl is chilled, remove the thick/hardened coconut cream from the chilled can and transfer to your mixing bowl, leaving any excess moisture/coconut water in the can. (If your can of coconut cream did not harden up, unfortunately you got a dud can of coconut cream and it won't whip into soft peaks. Use this can for cooking or baking instead, and try another can.)
Using a whisk attachment, beat on medium high for 2 – 5 minutes or until light, fluffy and soft peaks form. Scrape down the bowl. If adding sweetener, add honey or coconut sugar, then continue beating for another 2 minutes. I usually don't add sweetener, since the coconut cream has its own natural sweetness. But if you like it sweeter, feel free to add the honey or coconut sugar.
 Serving
You can serve the whipped coconut cream immediately, or transfer to an airtight container in the fridge for up to 1 week. It will harden up in the fridge. Just whisk for a few seconds before serving again.
THE STRAWBERRY TOPPING
Ingredients:
2 cups fresh strawberries, quartered
1 Tbsp. coconut sugar
1 tsp. lemon juice
 Directions:
In a large bowl, mix the strawberries with the coconut sugar and lemon juice.
Set covered in the refrigerator for about 30 minutes to set and chill before serving.