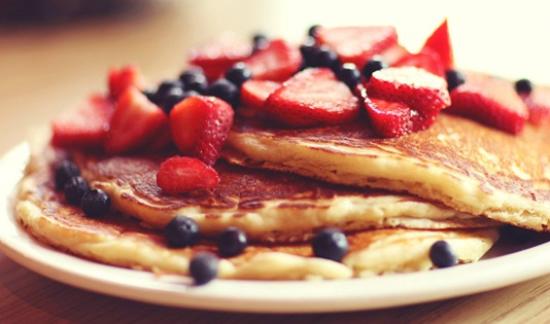 Ingredients:
1 scoop Nutrex Muscle Infusion Vanilla protein powder (Or your favorite brand)
1/2 cup fat-free cottage cheese
1/2 cup oatmeal
1 cup egg whites
1 banana
1/2 tsp vanilla extract
1tsp baking soda
1/2 tsp cinnamon
Directions:
Blend together until smooth.
Heat a lightly oiled griddle or frying pan over medium-high heat.
Pour or scape batter into griddle (Use about 1/4 cup of batter each pancake).
Brown on both sides.
Top with fresh fruit such as strawberries, blueberries, and banana Slices.
Per Serving:
244 calories
2g fat
1g saturated fat
23g carbs
3g fiber
32g protein