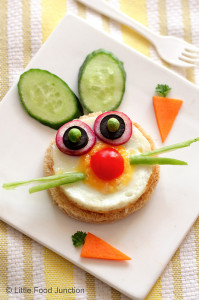 WILL YOU END UP WITH AN EASTER BUNNY WAISTLINE??
Yes, Easter is coming! I always look forward to gathering with family on Easter. At the same time, it is also a holiday that can be filled with chocolate eggs and bunnies, sugar filled marshmallow looking treats, cookies, ham and potatoes, casseroles, and more. For most, the combination of all of these foods is more than you should consume in any meal.
As a personal trainer, nutritionist, and personal transformation coach, I believe in and promote maintaining a clean and healthy lifestyle all year round with a few indulgences of along the way. So, there is no reason why our Easter meal can't be healthy and tasty, without being full of fat. Clean eating is about creating a lifestyle that takes many favorite dishes and gives them a clean and healthy spin.
In an effort to help you save your waistline this Easter and still energy your Easter gathering, I am providing you with a few healthy tips to start with that will help you save on calories and several of my favorite clean eating healthy recipes that you can offer to bring to your Easter gathering. They are delicious and easy on the calorie count! I really want you to enjoy the special holiday with your family and friends while also being mindful and conscious of what you are eating! Check it out:
1. Add more fresh, leafy greens! Greens are the perfect spring elixir after months of heavy, winter food. Try a stir fry using fresh bok choy, sauté kale or collard greens or roast fresh asparagus. Make two veggies dishes instead of one! I know how easy it is to fill up on simple carbs but why not try to veggie dishes instead. Something with a little starch, like sweet potatoes, is a wonderful accompaniment to a dish featuring greens and yet, still so healthy.
2. Add flavor to your dishes by using orange or lemon zest or fresh herbs. You can ditch high calorie ingredients like butter in this simple way yet add lots of flavor that your guests will love.
Skip all the sweeteners – glazed ham or sugary sweet potatoes can easily add on unnecessary calories. Think about roasting sweet potatoes and sweetening with fresh orange juice, cinnamon and nutmeg instead. If you're making a ham, why don't create your own glaze from pure maple syrup or locally grown honey instead of what you'll find in the grocery store?
3.Make a healthy dessert. Instead of lots of sugary choices and too many options, make one dessert with high quality ingredients that features a natural sweetener like pure maple syrup, agave, or hoNey. Or even better, have a fresh fruit salad!
Here are some of my favorite Easter recipes:
CLEAN EATING DEVILED EGGS
Ingredients:
6 hard-boiled eggs
3 tbsp. of fat free Greek yogurt
1 ½ tsp. of Dijon mustard
2 tsp. of fresh chopped dill
Salt and pepper to taste
A few pinches of cayenne pepper or paprika
DIRECTIONS
Cut hard-boiled eggs in half-length wise. Separate egg yolks from the egg whites and place in a small bowl.
Add yogurt, and Dijon mustard to the yolks and combine well. Stir in dill and season with salt and pepper to taste.
Fill each egg white half with a heaping tablespoon of yolk mixture. Sprinkle with cayenne pepper or paprika and enjoy!!
Makes 6 servings.
CLEAN EATING ASPARAGUS AND BAKED ALMONDS
Ingredients:
-1 lbs. broccoli
– 1 tsp. garlic powder
– 1/2 cup almonds chopped
– 1 tsp. olive oil
– 1/2 cup parmasean cheese
– 2 tsp. dried basil
Directions: 
Place all ingredients in a food processor (except asparagus) and process. Spread asparagus on a baking sheet lined with parchment paper. Spray lightly with olive oil. Sprinkle asparagus with the nut mixture. Bake at 350 degrees until it reaches the done-ness that you prefer!
CLEAN EATING SIDE SALAD (OPTION 1)
Basic balsamic salad
Ingredients:
– Spring mix salad OR spinach salad
– Sliced Strawberries
– Slivered almonds
-feta cheese
-light balsamic vinaigrette dressing (Ken's doesn't have high fructose corn syrup)
– red onion
-sliced mushrooms
 Directions:
Toss all ingredients together and put the dressing on the side so that you can determine how much you want to put on your salad! This a great light and refreshing salad that is healthy and everyone will enjoy.
CLEAN EATING SIDE SALAD (OPTION 2)
Black Bean, Corn and Avocado Salad
Makes about 8 servings
Ingredients:
1½ cups black beans
1 small red onion, diced
2 avocados, pitted and cubed
2 cups fresh corn kernels (from about 3 cobs)
1.5-2 cups cherry or grape tomatoes, halved or quartered
Juice of 2 limes
2 tsp. olive oil
¾-1 tsp. sea salt or Himalayan pink salt
½ cup fresh cilantro, chopped
Directions:
In a large bowl, combine the beans, red onion, avocado, corn, and tomatoes. Add in the lime juice, olive oil, and salt, and stir well to blend. Gently mix in the cilantro. Serve chilled or at room temperature.
CLEAN EATING SIDE SALAD (OPTION 3)
Broccoli Slaw with Pineapple Curry Dressing
Ingredients:
8 – 10 ounces broccoli slaw (about 4 large broccoli stalks and 2 carrots, shredded)
1 Tbsp. natural peanut butter or other nut butter
1/4 cup pineapple juice
2 Tbsp.apple cider vinegar or white balsamic vinegar
3/4 tsp. mild curry powder (such as Maharajah)
1/4 tsp. red pepper flakes
4 drops liquid stevia, or other sweetener to taste
1/2 cup sliced grapes or chopped pineapple
roasted peanuts for garnish, optional
Directions:
Place the broccoli slaw into a serving bowl.
Put the peanut butter into a small bowl and whisk in the pineapple juice. Add the vinegar, curry powder, and red pepper flakes. Check the flavor and add stevia or other sweetener to taste. Pour over broccoli slaw and mix well.
Refrigerate for at least an hour to allow flavors to develop. Stir in grapes or pineapple just before serving, garnished with a sprinkling of roasted peanuts, if desired.
CLEAN EATING CINNAMON FRUIT KEBOBS (Use any fruits your heart desires honestly!)
Kebob Ingredients:
1 fresh, ripe pineapple
6 white nectarines
2 Ripe Mangos
Basting Sauce Ingredients:
Juice from the fruit
1 tbsp. honey or agave
1 tsp. cinnamon
Directions:
Cut all your fruits into bite-sized chunks. Be sure to cut them over a large bowl (the bowl that holds the fruit before you skewer it). You want to save as much of the juice as possible for the basting sauce.
Put them on skewers. If you use wooden skewers soak them in water first so they do not burn.
Put the kebobs on the grill and, using a basting brush, baste the kebobs with the basting sauce.
The kebobs are done when they have a nice golden brown color. I BBQ'd mine for approximately 30 minutes. But use your judgment. The fruit should be nice and caramelized.
CLEAN EATING EASY FRUIT SALAD
Ingredients:
1 lbs. strawberries, washed and quartered
1 pint blueberries, washed and picked through
2 bananas, peeled and cubed to whatever size you like
1/4 fresh pineapple, cubed
1 orange, cut it how you like, but I like to peel and slice out the meat, then squeeze the juice out from the body that is left over.
2-3 Tbsp. unsweetened coconut flakes
3/4 cup-1 cup low-fat coconut milk
1/4 cup raw walnuts, chopped
1 Tbsp. raw honey
Mix together and serve chilled. Make sure to enjoy every last drop.
CLEAN EATING SWEET POTATO CASSEROLE
(Makes 8 small servings)
Topping Ingredients:
1 cup pecan pieces
1/4 cup honey
1/4 cup whole wheat pastry flour
1 tbsp. safflower oil
1/2 tsp. cinnamon
Filling Ingredients:
3 lbs. sweet potatoes
1/2 cup clean or organic orange juice
1-1/2 tsp. cinnamon
3/4 tsp. ground nutmeg
1 tbsp. honey
Topping Directions –
In a large mixing bowl, combine all topping ingredients together using a wooden spoon. It will be clumpy and sticky.
– Spread out mixture the best you can on a parchment lined cookie sheet.
– Bake at 350 degrees F. for approximately 10-15 minutes. The mixture should have a nice golden color to it.
– Remove from oven and allow to cool.
– Transfer small portions to a large cutting board and chop roughly. Set aside.
Casserole Directions –
– Wash the sweet potatoes and rub with oil. Place on a parchment lined cookie sheet and bake until easily pierced with a fork (about 30-40 minutes).
– Remove from oven and allow to cool until you can handle them without burning yourself.
– Peel the potatoes and place the inside in a large mixing bowl.
– Add all other filling ingredients and mash with a potato masher or blend with a hand blender.
– Transfer the potato mixture to a serving bowl. Sprinkle the pecan topping evenly over the potatoes.
– Serve.
Note: you will most likely have some topping left over depending on the size of the dish you use. The leftovers are great for topping oatmeal!
CLEAN EATING HAM
If you eat ham on Easter….. to avoid all the over processed ingredients….get a natural ham that is not cured. They do cost more but it's worth it!!
Enjoy and HAPPY EASTER!